What's in a name?
Hi! My name is Simon and I'm an avid tabletop gamer. Board Game Yarns is the name of my blog, springing from my love of board games and my wife's love of yarn. The name 'Board Game Yarns' is a play on words where 'yarns' can mean 'stories' as well as 'the materials used to make cosy hats and socks'. It's also a tribute to my best friend, soulmate, and wife, Fran, who hand dyes unique yarn colourways, which are available at her online store, burrowandsoar.co.uk.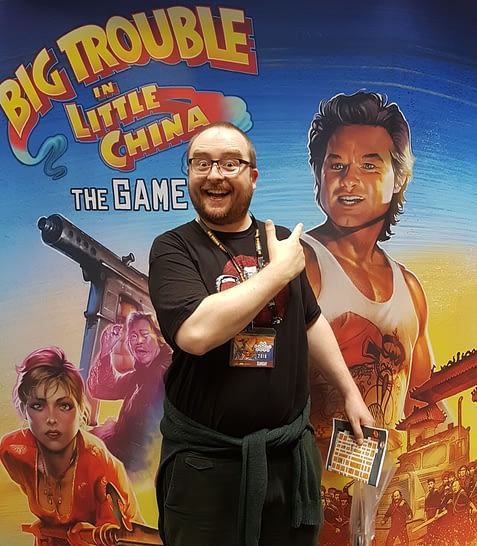 ---
Me and my family
I live just outside of Nottingham, in a village called Barrow upon Soar, where I am flanked on all sides by tabletop creatives, in what is affectionately known as the UK's 'Lead Belt'. I'm an enthusiastic card and board gamer, and I attend as many tabletop events around the UK as I can. I also enjoy painting miniatures and tabletop scenery, as well as playing narrative-rich video games such as the Bioshock and The Witcher series.

I'm enthralled by books, graphic novels, TV and movies – often spending time picking apart a script or dialogue, just for fun. Anything involving wordplay is pure entertainment to me and I often spoonerise quotes, alliterate aggressively, or turn mundane phrases into songs while I work.

I am hopelessly in love with all animals, great and small, and my wife and I have two wonderful Cockapoos named Monty and Zelda. We enjoy walking together through the local countryside, and hiking around the Peak District.
For the love of yarn
Our home is a cosy hub of creativity. In addition to the various indulgences in my tabletop hobbies, it is home to my wife's yarn-dying business. From her custom workshop, in our converted garage, Fran serves unique hand-dyed yarns to crafting communities across the globe. She has a lifelong love affair with yarn, and when she isn't dying the stuff, she will most likely be found spinning, sewing, weaving, and more. Below is just a taster of her work, and you can find more images of her beautiful yarn on Instagram. It's available for purchase from her online store, burrowandsoar.co.uk.
---