What's in a name?
Hi! My name is Simon and I'm an avid gamer who provides writing, editing, and proofreading services to the tabletop industry. Board Game Yarns began life as a board game and tabletop blog, springing from my love of board games and my wife's love of yarn. It's now also the home of my editing services. The name 'Board Game Yarns' is a play on words where 'yarns' can mean 'stories' as well as 'the materials used to make cosy hats and socks'. It's also a tribute to my best friend, soulmate, and wife, Fran, who hand dyes unique yarn colourways, which are available at her online store, burrowandsoar.co.uk.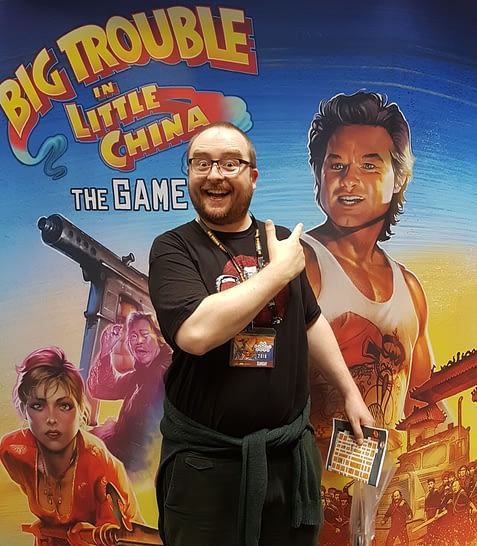 The written word
As a native-English speaker who has studied English language, English literature, Latin and ancient history, I have a good understanding of the English language and its origins. My love of language has seen me write poetry, prose, technical documentation, training materials, rulebooks, blog posts, social media content and more. I have a pretty wild imagination and blend creative elements with real life experiences when writing. I also speak a little French and understand some Italian, Spanish and German. I really enjoy listening to music with non-English lyrics, relishing the different sounds made by vocalists.

I also have more than a decade of experience debugging (identifying and removing errors from) computer programming code, which means I am well-practised at finding those hard-to-spot errors. I also have more than eighteen years' experience translating complex, technical concepts into layperson's terms. This means I can take your stream of consciousness, scribbled notes and help you turn them into a rulebook that everybody can understand. Additionally, twenty years' experience in customer service, across multiple industries, means I understand that everyone is different and I treat everybody with respect.

You could say that I strive for accuracy, clarity and simplicity, whilst conveying complex concepts – as well as having a little fun with words along the way! I'm also a really good listener and will provide a professional service, tailored to your requirements.
---
You can find details of my editing services here.
Me and my family
I live just outside of Nottingham, in a village called Barrow upon Soar, where I am flanked on all sides by tabletop creatives, in what is affectionately known as the UK's 'Lead Belt'. I'm an enthusiastic card and board gamer, and I attend as many tabletop events around the UK as I can. I also enjoy painting miniatures and tabletop scenery, as well as playing narrative-rich video games such as the Bioshock and The Witcher series.

I'm enthralled by books, graphic novels, TV and movies – often spending time picking apart a script or dialogue, just for fun. Anything involving wordplay is pure entertainment to me and I often spoonerise quotes, alliterate aggressively, or turn mundane phrases into songs while I work.

I am hopelessly in love with all animals, great and small, and my wife and I have two wonderful Cockapoos named Monty and Zelda. We enjoy walking together through the local countryside, and hiking around the Peak District.
For the love of yarn
Our home is a cosy hub of creativity. In addition to the various indulgences in my tabletop hobbies, it is home to my wife's yarn-dying business. From her custom workshop, in our converted garage, Fran serves unique hand-dyed yarns to crafting communities across the globe. She has a lifelong love affair with yarn, and when she isn't dying the stuff, she will most likely be found spinning, sewing, weaving, and more. Below is just a taster of her work, and you can find more images of her beautiful yarn on Instagram. It's available for purchase from her online store, burrowandsoar.co.uk.
---